Early Life
Sarvanand Kaul Premi was born on 2nd November 1924 in Anantnag, Kashmir. He studied in Punjab University and graduated with the highest merit. Not only was he extremely well educated – he also took part in the Quit India movement as a social activist. For 8 years, his blood, sweat and tears went into the fight for an independent India.
Work
He wrote for newspapers, such as the Daily Khidmat. He ended up authoring ~24 books and many more articles & poems. They are mostly in Hindi, Urdu and of course, Kashmiri.
He was advised by other poets, including Zinda Koul and Ghulam Ahmed Mehjoor. His work really painted a picture of the suffering of the Kashmiri people. He also translated the Bhagavad Gita into the Kashmiri language.
His work includes the life stories of the saint-poetess Mata Roopa Bhawani, a short biography of saint-poet Swami Mirza-Kakji, Kalami-Premi, Paymai-Premi, Rooda-jery, Oosh-ta-vosh, Mahjoor-t-Kashir, Russi Padshah Katha, Hamara Mahjoor & Kashmir ki Bettie.
Return to Kashmir
After working in Delhi, he returned to Kashmir Valley in 1954 to work for the Department of Education. Along with his work, he also taught poor children – irrespective of religious background – free of cost. This was a man who truly believed in the secular fabric of Kashmir.
Although Premi was born Kashmiri Pandit, he was a deeply secular and religious man. Everyday, he would read both the Bhagavad Gita as well as the Quran. He loved Kashmir's religious diversity – creating homes for both Hindu, Muslim and other religious minorities alike.
Being the only Hindu family in Soaf Shali, this never bothered him. The distinction between Hindu and Muslim was non-existent to him; there was only unity, love & brotherhood between Kashmiris. Needless to say – this was a man who was extremely loved & incredibly respected
He did not flee; neither did his family
Despite thousands of Pandits fleeing Kashmir valley preceding 19th Jan 1990, the family of Sarwanand Kaul Premi remained.
"My students won't let anyone harm us."
he used to say. If only he were right.
On April 29 1990, 3 armed militants stormed Premi's home. They ransacked all valuables and held the family members at gunpoint, after forcing the ladies to hand over their all their ornaments.
But they didn't stop there. They also ransacked the library and destroyed rare manuscripts. While plundering, one militant shouted:
"Masha Allah, ye to Qurani Sharif he".
Premi had kept one copy of it reverentially in the library for his study.
Only that day, Muslim neighbours had given assurance of their help for protection. Premi had declared that he had no plans of abandoning the village where he had fought for years together for the upliftment of the community and had not done any harm to anybody.
Premi was told to carry a suitcase containing all of the looted valuables. He was asked to come with the militants; they assured the women,
"Don't worry, he will come back soon."
Unable to watch his father go alone, Premi's son, Vivender Kaul, went with him.
It was 9pm. The family waited the whole night for them to come back. By morning, there was still no sign of them.
A day later, the police found two bodies hanging from a tree. A nail had been hammered in the place of a tilak; eyes gouged out; broken limbs, full of cigarette burns. They had been also been shot. This was no one other that Premi and his son, Vivender.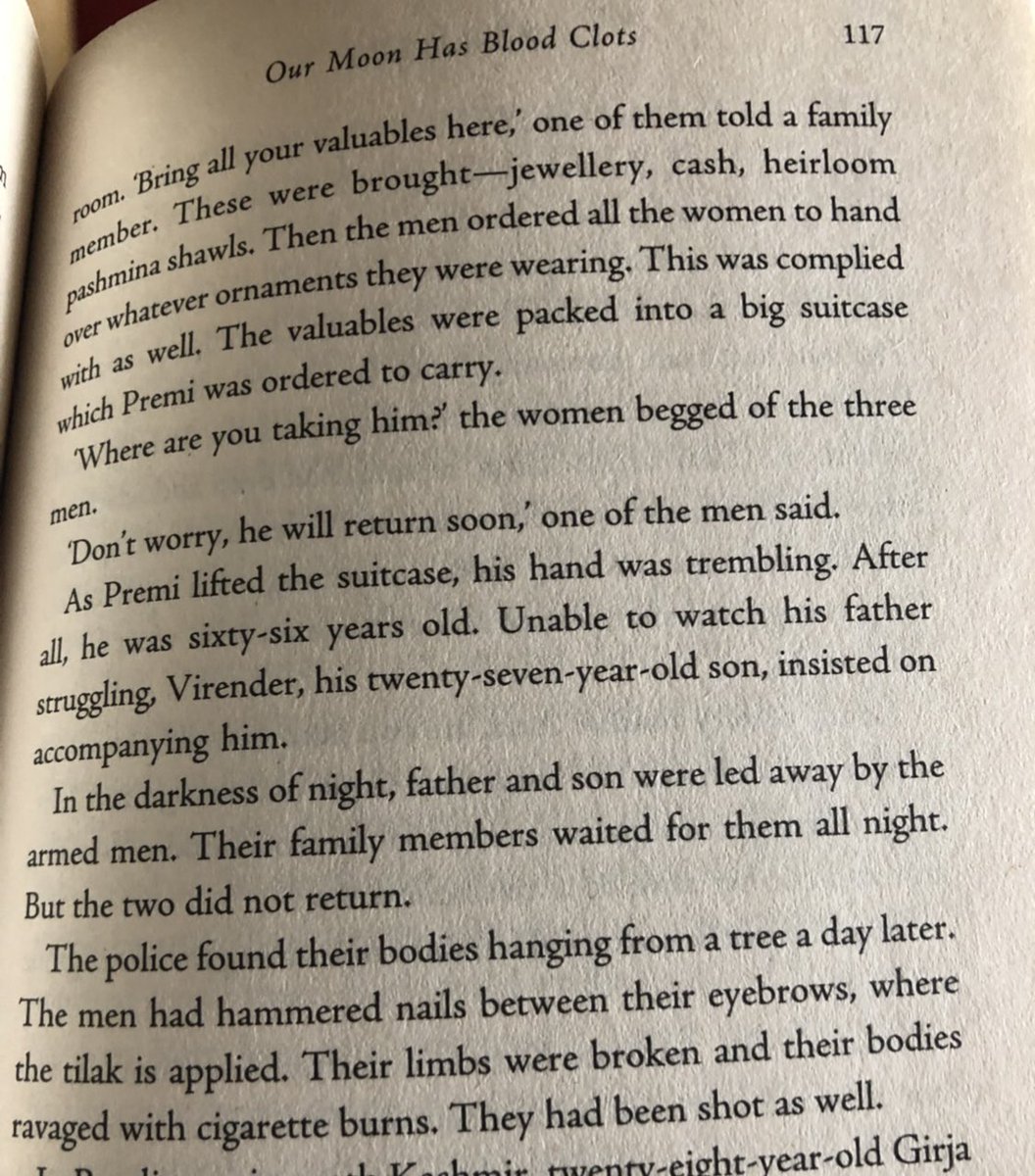 An Excerpt from Rahul Pandita's "Our Moon Has Blood Clots"
"This happened to a man who had kept a copy of the Quran, a freedom fighter and philanthropist. A scholar, social worker and poet. A man who worked voluntarily for months each in Muslim and Hindu schools after his retirement as a love for children of both the communities."
For everyone asking for justice – not a single person has been arrested in this brutal murder. It's been 30 years!
His son, Rajendra Koul Premi, continues his advocacy for reviving the Kashmiri language. The level of resilience the Kashmiri Pandits community exhibits is outstanding. He must be supported by the government → Away From Home, A Kashmiri Pandit Is Reviving His Language
"Their murders were part of a series of killings of prominent personalities from the minority Kashmiri Hindu community during the rise of the anti-India, pro-Pakistan Islamic militant movement in Kashmir."
For all those who care about 'human rights'
Who will answer the questions of his wife, his daughters, his son and other family members?
Why was a husband and father was killed?
Who will give back home in Kashmir?
Will the loss be ever compensated?
India made a bold, courageous move by abrogating Article 370. 2020 will be a year of progress – for Kashmir to revive its secular history, rich culture and for peace to prevail in the region.
Justice delayed is as good as justice denied. But I wish everyone – who suffered under the hands of terrorists – to get justice someday.
Source: Twitter
References: